It seems I've skipped a few months. I thought about backtracking, but no, let's just start up here.
This was a difficult pick. I've only completed three books this month, and I loved all of them. So I'm going to do an honorable mention to the runners-up:
Shakespeare's Pub: A Barstool History of London As Seen Through the Windows of Its Oldest Pub - The George Inn
by
Pete Brown
Its title is a grab, even though it's a trick: nobody knows for sure if Shakespeare visited The George. He could have, and so could Dickens. Most of the pubs, or coaching inns as they were in Southwark have closed
down, but even though it's been burned down and faced troubles, The George still stands. Brown traces its origins, and how it has managed to survive, while including a history of inns and Southwark that I appreciate even more after wandering around the area in December. You can't really pair tea with this book, so if you like ale, I guess I'd recommend that. I don't like beer, period, but I have grown fond of pubs (and pub food.)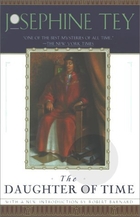 The Daughter of Time,
by
Josephine Tey
How have I never heard of this writer? Then again, as the protagonist notes early in the story, there's tons of books being published every day. You can't know all of them.
It's a detective story, with most of the work done from a hospital bed. Alan Grant, an Inspector from Scotland Yard is laid up and extremely bored following some injuries on the job. When an actress friend brings him pictures of faces from history (he's good at reading faces), he focuses on one that's supposed to be of Richard III. The picture just doesn't seem to reflect one of a murderer of nephews. So, with the help of a young American researcher, he tries to get to the bottom of the mystery of the Princes of the Tower. Loved it! I'd pair either with a milky black tea (perhaps with some Lapsang Souchong, which seems to fit with any male detective-centered story for me,) or Harney & Sons' lovely Tower of London tea. The author's last name is a pairing in itself....
and the winner is....
The Wheel of Ice
by
Stephen Baxter
I've entered the realm of Whovians who read Doctor Who novels. It was inevitable, I guess. This is especially true now that I'm all caught up with the newest episodes (what's up with John Hurt?), and have to wait till November for the next chapter. I'm sure it's worth the wait; still, I was surprisingly pleased with The Wheel of Ice. You see, I'm not entirely familiar with the Second Doctor. A good deal of his television episodes are lost, and frankly I don't like Doctor Who as much in black and white. I've seen a few of his stories, but only one from the 60s - the rest were multiple Doctor stories. Patrick Troughton was good, but not in my top five, but I did like Jamie, his companion, because, well, he runs around in a kilt and that's enough for me. In the Wheel of Ice they spell out his Scottish accent, which can get annoying, but I went with it. The other companion, Zoe, I knew nothing about before, and though I won't go to great efforts, I'm curious to see her as she was originally portrayed. As it is, The Wheel of Ice was written recently, so the reader can see the characters portrayed in a better light technologically speaking. Using the imagination to visualize a futuristic human colony on Saturn is a lot less shaky than what the BBC was working with nearly half a century ago.
I'm not sure if I could recommend this book to non-Whovians, but it's my favorite of the month. As for tea pairings, well, there's 'Blue People', so how about an iced blueberry green tea?
Happy reading everyone!